Geneviève Leclerc Big Band
Geneviève Leclerc Big Band
Immerse yourself in the heart of elegance and celebratory times with the "Geneviève Leclerc Big Band"! You're cordially invited to an outstanding concert experience: An experience that will take you back in time to a legendary era when music was synonymous with class and elegance, and embraced a spirit of celebration.
Geneviève Leclerc will be accompanied by six incredibly talented musicians and four exceptional dancers. She's promising a memorably festive performance, from the moment the show begins until the final note of the evening.
The show is a brilliant retrospective of the great Swing classics, such as those immortalized by legendary names like Peggy Lee, Doris Day, Frank Sinatra, Ella Fitzgerald, and many more.
Espace St-Denis' Studio-Cabaret's distinctive 180-degree LED screens offer extraordinary visual quality and will provide an immersive and intoxicating Swing era experience.
For those who are so inclined, there'll be a dance floor in the heart of Studio-Cabaret. Make sure to bring your dancing shoes!
And we feel it prudent to tell you in advance: It will be very difficult not to dance, we prefer
notify you.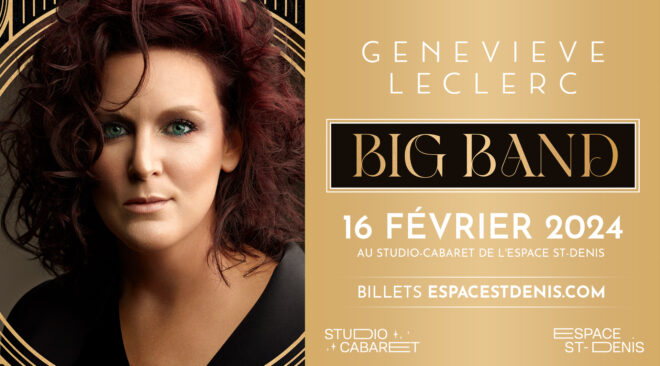 Dates
| | | | |
| --- | --- | --- | --- |
| Friday, February 16th 2024 | Studio-Cabaret | 8 pm | Tickets |