ESPACE ST-DENIS
The multi-purpose entertainment complex Espace St-Denis – located in the heart of the Latin Quarter – is presently under construction and is scheduled to be completed in 2025. Espace St-Denis will be a must-visit destination for anyone interested in a wide variety of performances along with places to eat, all conveniently housed under one roof. It will also ultimately include the cinema complex located on Émery Street, which will be redeveloped in order to accommodate a mixed reality experience supported by artificial intelligence. It will come to be known as Cité Création Montréal.
This ambitious large-scale project, which is currently a work in progress, promises to make the heart of the eastern sector of the Quartier des spectacles beat even louder: Meeting, if not exceeding, audience expectations. Espace St-Denis will be a major attraction in the Latin Quarter with the ultimate objective being to increase attendance levels, whether among the local population, regionally or internationally. It will be a very bright, shining star in Montreal.
Théâtre St-Denis – a word regarding its history
More than 100 years after its inauguration on March 4, 1916, Théâtre St-Denis is about to write an exciting new chapter in its history. The legendary hall will become part of the new Espace St-Denis: An important cultural, tourist, technological and gastronomic hub. It is the most ambitious project in its history.
Théâtre St-Denis, as we know it today, will soon become a thing of the past.
Having previously undergone several transformations, and redefining its calling more than once, Théâtre St-Denis is now undergoing a total metamorphosis while all the while respecting its architectural heritage. Period ornamental details, like the theatre's chandeliers from days gone by and the orchestra pit, will regain their grandeur. The theater is entering a new era – but it is not ignoring its past or its mythical character.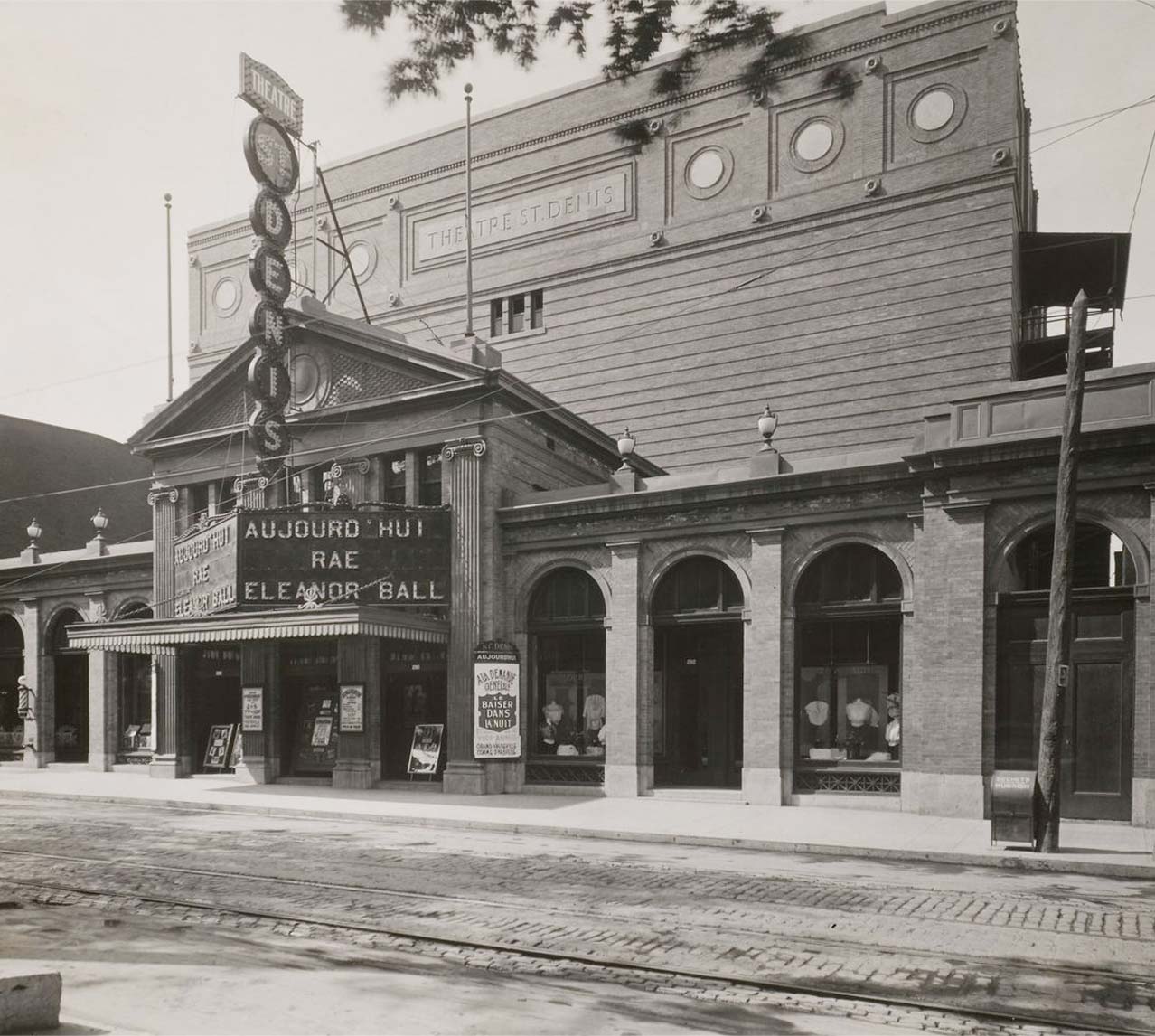 MARCH 1916
Théâtre St-Denis, the early years
After two long years of work and $200,000 in construction costs, Théâtre St-Denis was officially inaugurated on March 4, 1916. At the time, it was the largest theatre in Canadian history and boasted a total capacity of 3000 seats. It originally presented silent movies in French, bedroom comedies and operettas.
The 20s: home to major concerts
Following a brief interlude of opera and comic opera, the Theatre went back to screening silent movies in early 1929. Of course, these were the glory days before the New York Stock Exchange crash, the Theatre frequently drew large crowds and coffers were well filled.
In 1920, the Theatre began welcoming major international orchestras, notably the Orchestra of Milan under the direction of Toscanini. Maurice Ravel also stopped by the Theatre during his 1928 North American tour to perform some of his own works.
The 30's: the birth of the "talkies"
Just as the world was facing a major financial meltdown, the then well-known Barry-Duquesne theatre company set up shop at the Theatre, where it remained for eight months. It was eventually uprooted when the first French-speaking movies made their appearance in North America. And so it was in 1930 – 14 years after the Theatre first opened – that French films finally became a mainstay at Théâtre St-Denis.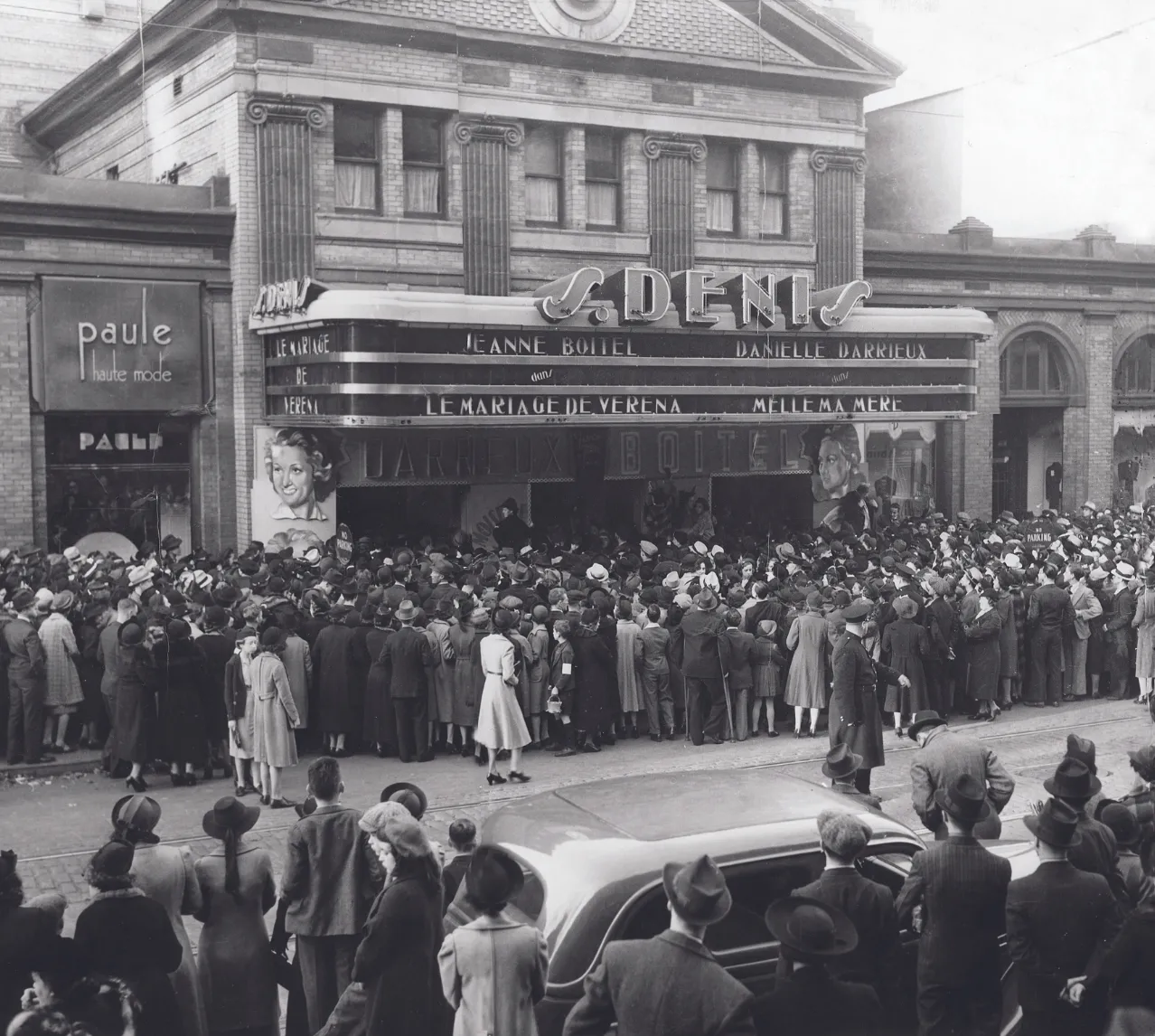 1942 - 1950
Concerts make a comeback during the World War II
When film-making was interrupted in 1942, Théâtre St-Denis suddenly found itself with an urgent need to diversify its programming. Enter stage left the New York Metropolitan Opera (which would return yearly until 1945). The Bolshoi ballet, the Comédie Française and the Théâtre National de Paris would also grace its stages. Symphony orchestras and great conductors like Wilfrid Pelletier and Stravinsky were also invited to perform.
Some of the biggest French and international stars of their time paraded across the stages of Théâtre St-Denis: Maurice Chevalier, Fernandel, Tino Rossi, Luis Mariano, Yves Montand, Gilbert Bécaud, etc.
But that doesn't mean cinema has been entirely abandoned. Lacking new releases, the Théâtre rescreened movies from the 1930s.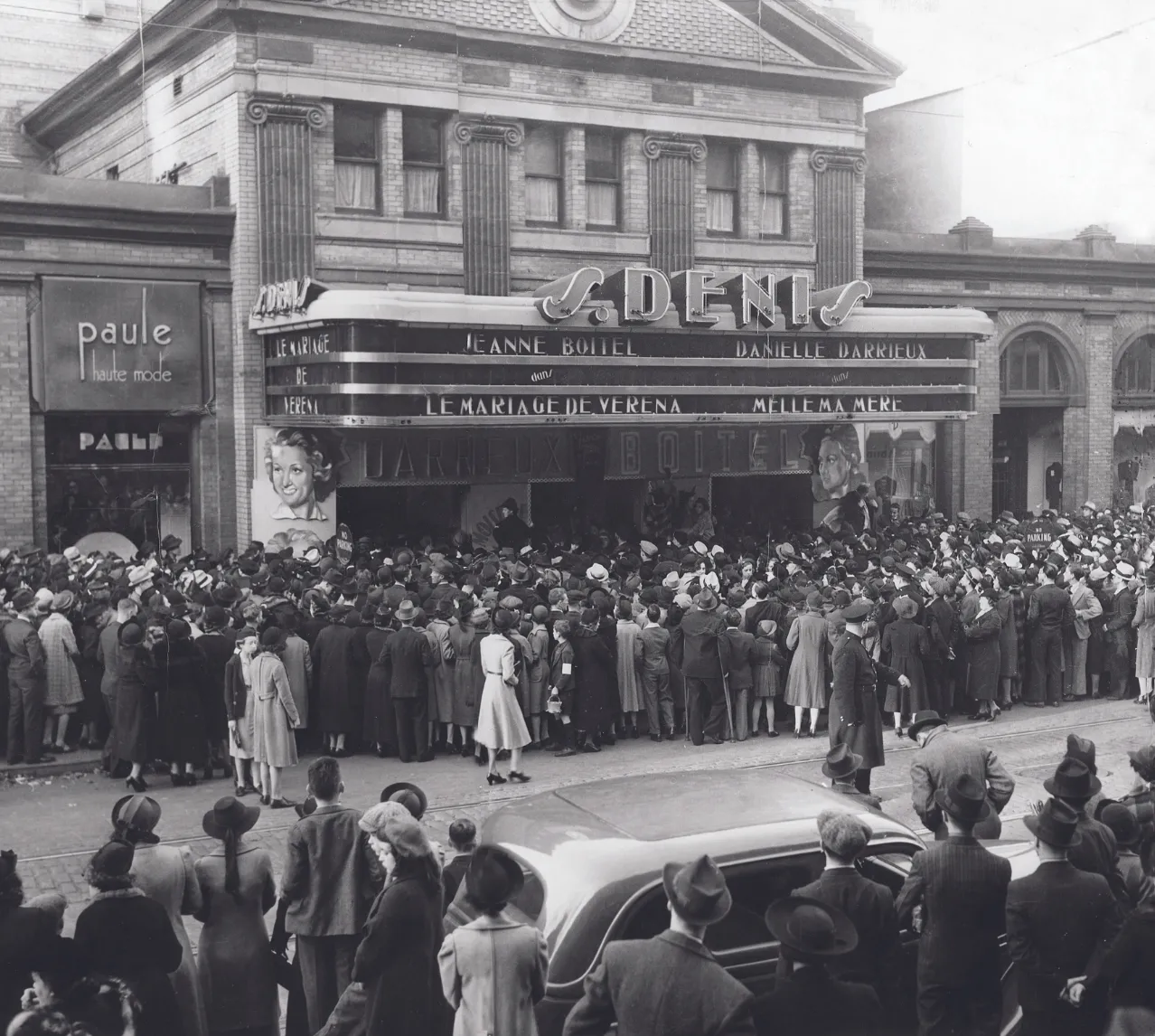 Montreal's most sumptuous theatre
1950 arrived and Théâtre St-Denis underwent major reconstruction. Some $500,000 later, it had become the most sumptuous and modern theatre in all of Montreal – boasting several innovations and an increased capacity of 2,500 seats.
Once more, Théâtre St-Denis resumed its role as the leader in entertainment. On April 25, 1952, Aurore l'enfant martyre premiered and quickly became the most successful Quebec movie of its time. The Theatre also continued to present musical theatre and dance performances, as well as symphony and music hall concerts, right up until the opening of Place des Arts in 1963.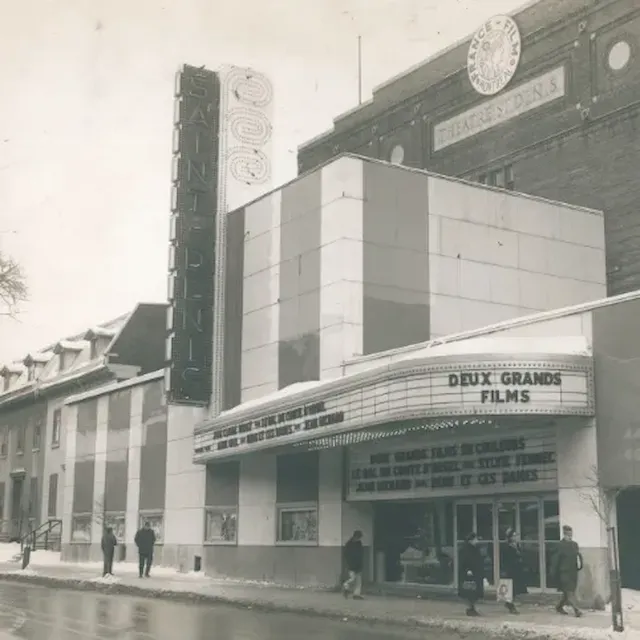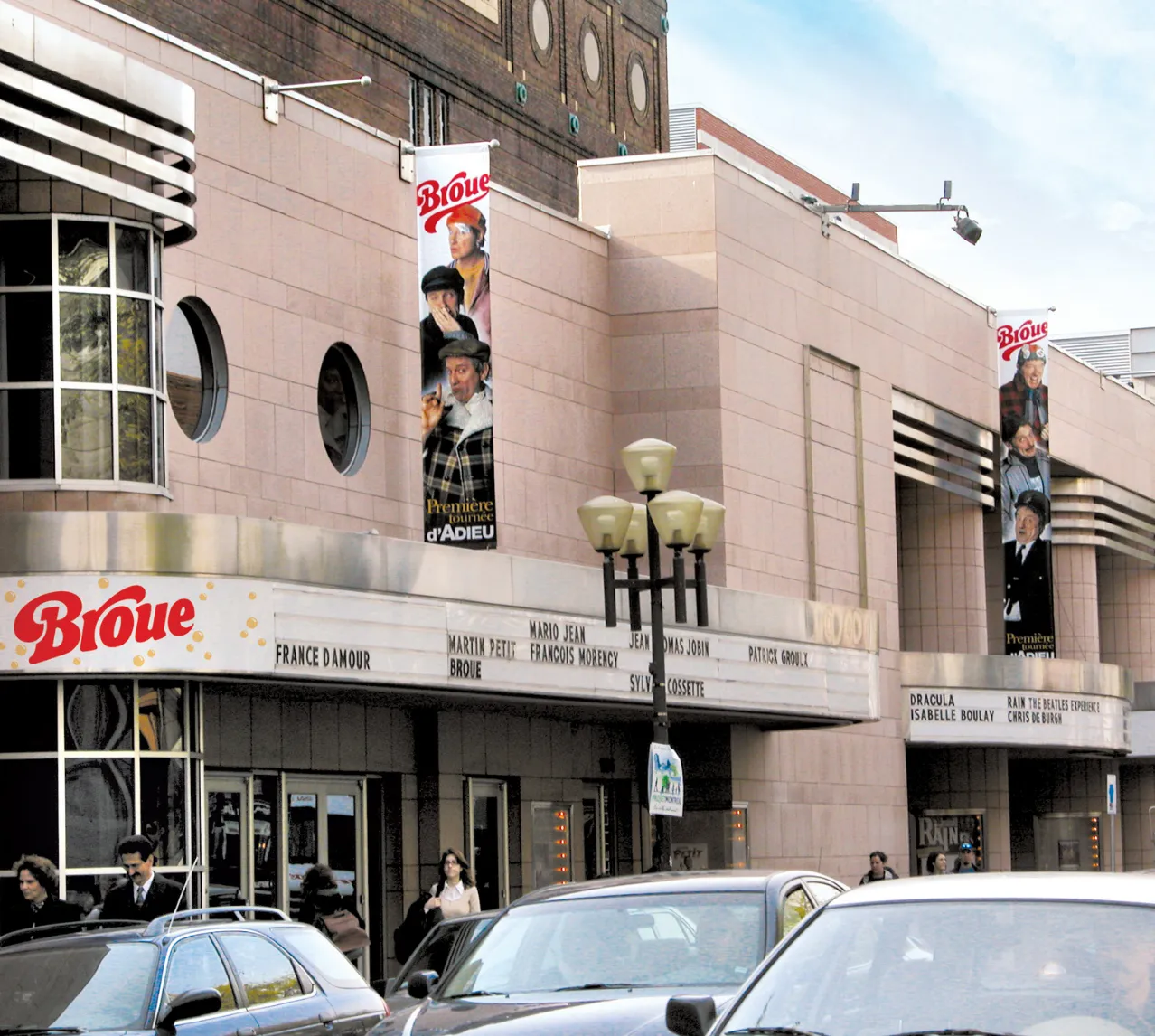 A few career changes
In 1971, Compagnie France Film added two other halls to Théâtre St-Denis and relaunched it as the Centre St-Denis. These two new halls were named the Chevalier and the Pierrot; later renamed the St-Denis 2 and St-Denis 3.
In 1978, management decided to diversify operations. Sensing that Montreal needed a theatre that could hold more than 2,000 seats, it returned the Centre St-Denis's main theatre to its initial calling. The main room was completely remodeled into a concert hall, which filled an increasingly pressing need for both the art world and the Quebec public.
In 1990, the Centre St. Denis -still under the aegis of Compagnie France Film- was treated to a makeover in honor of talent, and became once more the Théâtre St-Denis as we now know it. The Théâtre St-Denis' two halls were combined into a single hall that was refitted to accommodate 933 people. The interior design was completely revamped; only the outer structure was preserved.
On January 26, 1990, hall 2 was launched with a show by Jean Lapointe. And on April 4, 1990, following extensive renovations, hall 1 was officially inaugurated with a performance by André-Philippe Gagnon. This main hall now had 2,218 seats.
In the summer of 2020, Théâtre St-Denis' Hall 2 underwent a complete transformation which targeted the hall's interior. The lobby and the facade were demolished in order to make way for the new Studio-Cabaret, which is due to open its doors in June, 2022. The Marie-Louise bar / terrace and grill, which overlooks St-Denis Street, will also be inaugurated at the same time.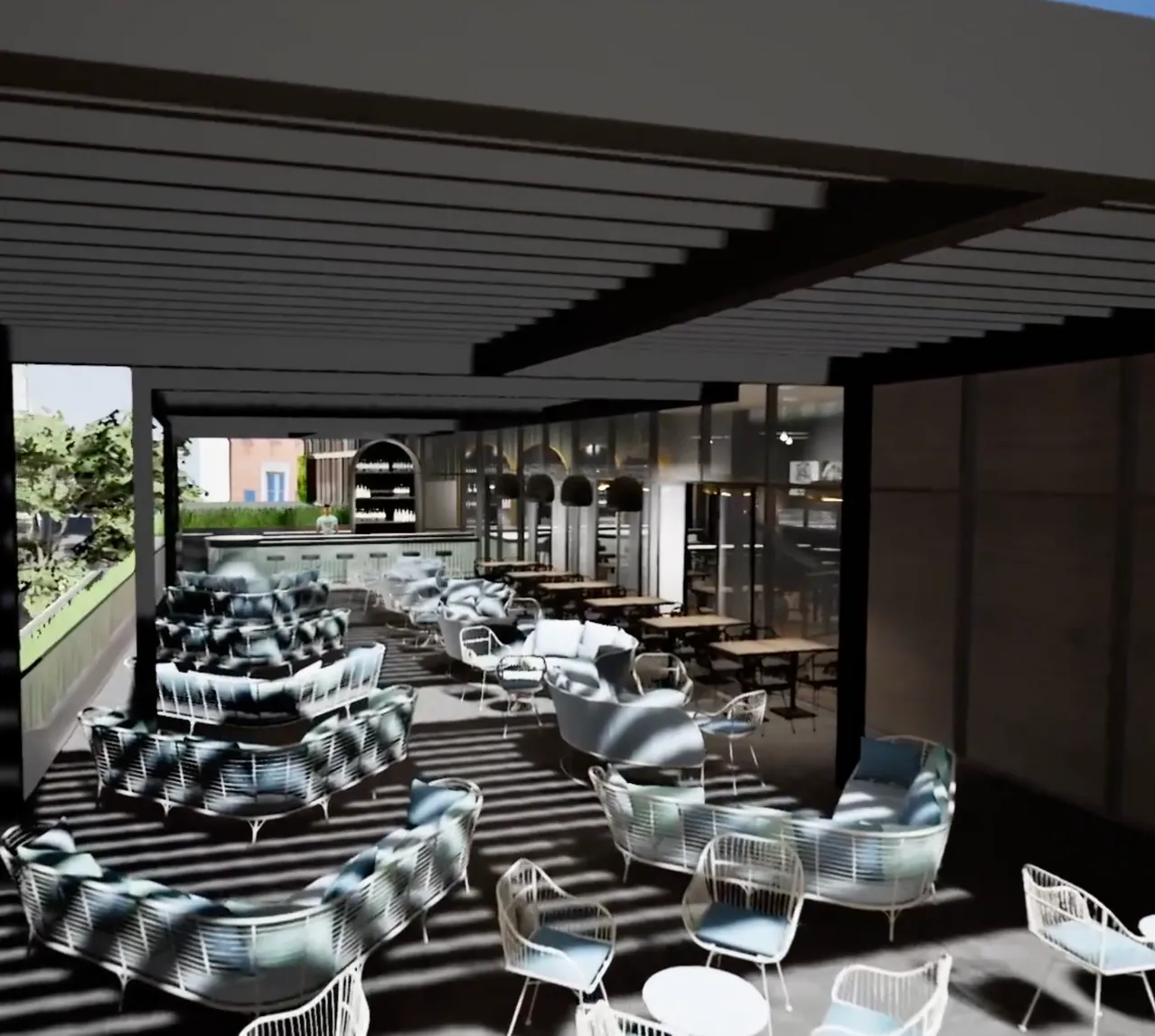 From 2022
Since then, countless Quebec, Canadian, U.S. and international events have graced the stages of the theatre's two halls, allowing it to pursue its mission and vocation in the field of entertainment. Théâtre St-Denis remains to this day a mythical and prestigious location attracting the biggest names in show business.