Slava's Snowshow
25 years ago, Slava Polunin and his troupe landed in Montreal to present Slava's Snowshow. To celebrate this anniversary, the troupe of the famous clown will stop in 2024 at the Théâtre St-Denis for 13 exceptional performances.
From its first appearance in Quebec in 1999, Slava's Snowshow has created wonder in the eyes of the public here. We can almost speak of a great love story. A flame that has never been extinguished for 25 years. With more than 230,000 tickets sold, this show has now become a real must. This unique production is a visual and musical event; adults instantly find their child's heart and the youngest open their eyes wide in front of this wonderful interactive work of art.
All the senses of the public are awakened by the succession of majestic scenes. An unparalleled poetic fairyland that combines music, mime, and theater to perfection. Slava's Snowshow is an epic in an absurd, surreal universe through which the public is hypnotized by balloons and a hallucinating snowstorm, larger than life.
Duration of the show: 1h40min with intermission.
Recommended for ages 8 and up.
We would like to inform you that some of the numbers in the show interact with the public and that for reasons of room configuration, these numbers cannot reach the balcony.
Slava's Snowshow Espace St-Denis
Slava's Snowshow Espace St-Denis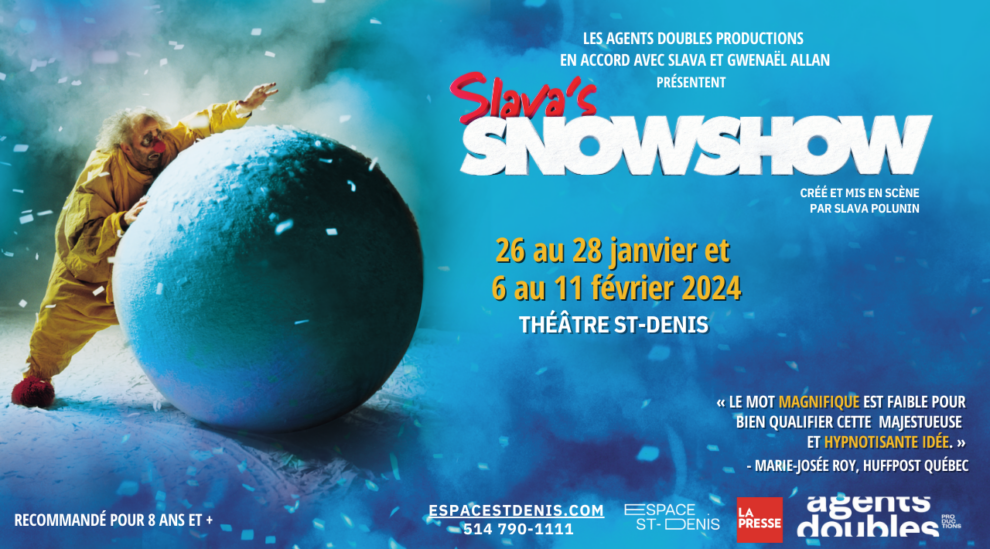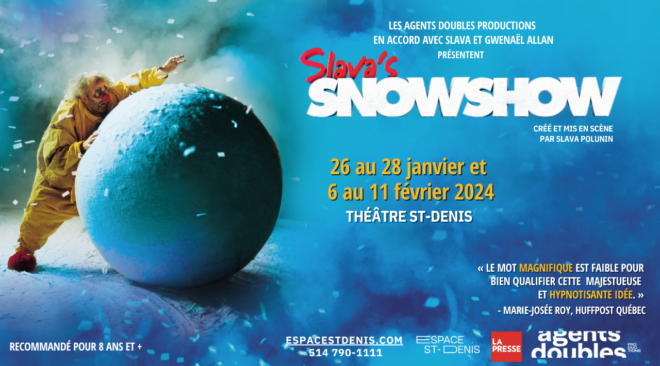 Dates
| | | | |
| --- | --- | --- | --- |
| Friday, January 26th 2024 | Théâtre St-Denis | 7 pm | Tickets |
| Saturday, January 27th 2024 | Théâtre St-Denis | 1 pm | Tickets |
| Saturday, January 27th 2024 | Théâtre St-Denis | 4:30 pm | Tickets |
| Sunday, January 28th 2024 | Théâtre St-Denis | 1 pm | Tickets |
| Sunday, January 28th 2024 | Théâtre St-Denis | 4:30 pm | Tickets |
| Tuesday, February 6th 2024 | Théâtre St-Denis | 7 pm | Tickets |
| Wednesday, February 7th 2024 | Théâtre St-Denis | 7 pm | Tickets |
| Thursday, February 8th 2024 | Théâtre St-Denis | 7 pm | Tickets |
| Friday, February 9th 2024 | Théâtre St-Denis | 7 pm | Tickets |
| Saturday, February 10th 2024 | Théâtre St-Denis | 1 pm | Tickets |
| Saturday, February 10th 2024 | Théâtre St-Denis | 4:30 pm | Tickets |
| Sunday, February 11th 2024 | Théâtre St-Denis | 1 pm | Tickets |
| Sunday, February 11th 2024 | Théâtre St-Denis | 4:30 pm | Tickets |